Check out my client testimonials here: Realsatisfied.com/Veronica-Meyer (Copy & Paste Link)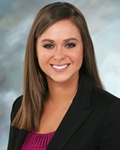 Veronica grew up in Bellevue, Nebraska and graduated from the University of Nebraska-Lincoln, with a Bachelor of Science in Business Administration with a concentration in Marketing and Management. During college, she studied abroad in Japan, China, and South Korea, taking classes in International Marketing and Entrepreneurship. Veronica has over seven years of experience in the housing and real estate industry and enjoys working with clients to help them find the perfect home!
Outside of work, Veronica enjoys traveling, visiting art galleries and museums, going to farmer's markets and festivals, snowboarding in the winter, and taking her Sheltie to the dog park. She loves spending time with her family, especially during the holidays.